Election Message from Bishop Palmer

Beloved in Christ Jesus:
What a whirlwind of a year this has been. We have been witnesses to so many events and circumstances that are almost unimaginable. But what is unimaginable for some is normalcy for others. But such a theo-philosophical diatribe is surely for another column.
Among the realities of 2020 are yet another election cycle. The years in which there is a Presidential election seem to intensify both the rhetoric and the engagement. Not one among us can say that the vitriol does not grow with every election.
So, I write to you now on the eve of what is described in varying ways as the "most crucial election in American history". At the very least some say it is the "most critical in our lifetime". That is a feeling and a perception. It is not without warrant mind you but that conclusion may have to be reached or not, when this election is in the rearview mirror.
I choose to treat each election as crucial and important. Treating any election as inconsequential loads too much freight on subsequent elections. Making one election more important than another is to trivialize the process so as to excuse oneself from the responsibilities of citizenship. Sitting it out may be a right but it is not a moral option for the Christian who is also a citizen in a free society. Failure to participate is a greater threat to democracy, free elections and a free society than any outside interference. Too many have suffered disenfranchisement, suppression and indignity for any of us to sit it out. the poetry of Harry Emerson Fosdick rings in my ears: "save us from weak resignation to the evils we deplore". 
That said while there is much going on that saddens and disappoints me, I am frankly inspired by the level of engagement. To be sure I am not at all in agreement with the ways some engage in word and deed. But there is a value, ones position notwithstanding, to believing that you should participate. I have been especially heartened by what I have seen and heard among many of the people and churches of the WOC. You have worked to register people to vote. You have and will do so on the third, assisted people getting to the polls or getting their ballots in. You are and will continue to participate in prayer vigils. You have worked against voter suppression. Many of us are positioned to be a presence at the polls on November 3 to ensure access, participation, safety and peace. I could not be more pleased. Thank you for seeing the image of God on everyone. You are making a difference. Don't quit and do not lose heart. "Blessed are the peace makers for they shall be called the children of God".
I do encourage you to believe that the work will not be complete late on November 3 or early on the 4th. That quite frankly has never been true. The work of freedom, justice, inclusion, equity and peace building will be even more important after all the votes are cast and counted. God will be counting on us on November 4 and beyond to bear witness to God's ways known best in Jesus Christ. If we do not show up as salt, leaven and light following the election our work is only partially done. When we pray "Your Kingdom come, your will be done on earth as it is in heaven" we are asking God to show up in our everyday affairs. Guess what? God expects us to be on our posts too.
Please join me in this prayer For the Nation from the Book of Common Prayer:
Lord God Almighty, you have made all the peoples of the earth for your glory, to serve you in freedom and in peace: Give to the people of our country a zeal for justice and the strength of forbearance, that we may use our liberty in accordance with your gracious will; through Jesus Christ our Lord, who lives and reigns with you and the Holy Spirit, one God, for ever and ever. Amen.
Yours in Christ,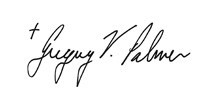 +Gregory V. Palmer
https://worthingtonumc.com/wp-content/uploads/2018/02/wumc-logo-190x88.png
0
0
Jessica Sapp
https://worthingtonumc.com/wp-content/uploads/2018/02/wumc-logo-190x88.png
Jessica Sapp
2020-11-01 08:20:26
2020-11-01 08:20:26
Election Message from Bishop Palmer