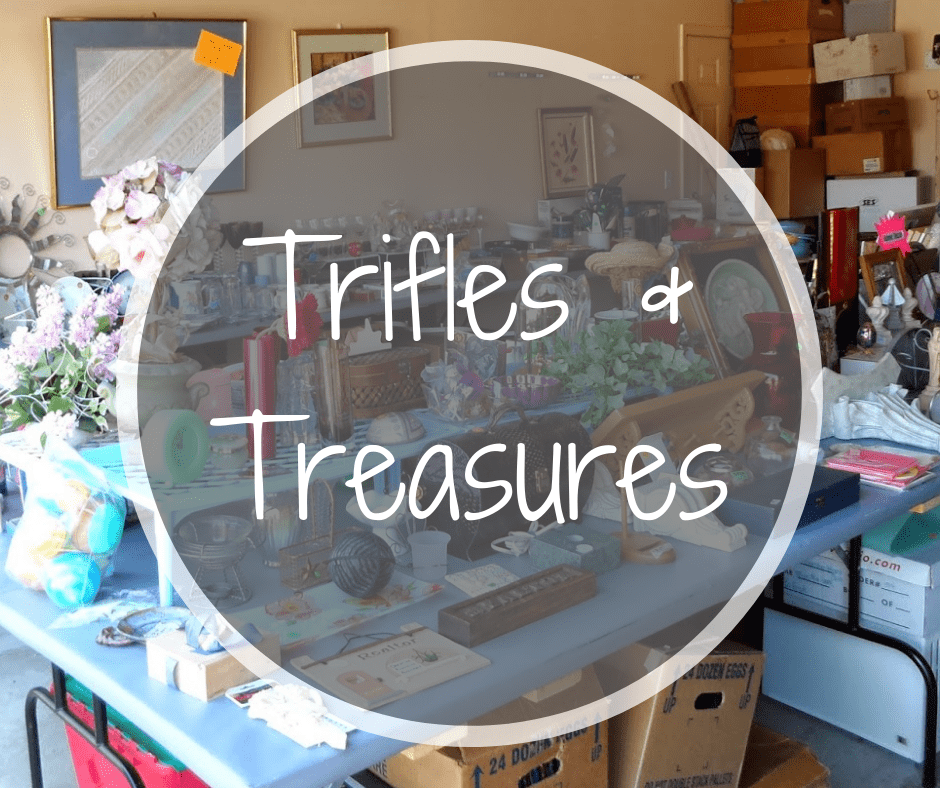 Date
Sat Oct 27 2018
Time
8:00 am - 1:00 pm
Trifles & Treasures
Trifles & Treasures is around the corner! Save the date for Saturday, October 27!
Come and find some bargains! All proceeds go to UMW missions. And as always, we need your help to make the sale a success.
Donate your gently-used stuff: Donations may be brought to the church now through Wednesday, October 24. Receipts for tax purposes are available from the church office. For pickup of items you can't deliver yourself, contact Debbie Varble. Please note: Absolutely NO donations will be accepted after Wednesday, October 24.
Items we accept include: 
– jewelry, fashion accessories, purses, luggage;
– household items;
– infant/toddler clothing (up to size 5T only);
– toys and games, sporting goods
Items we CANNOT accept:
– clothing and shoes (other than infant/toddler as seen above);
– any furniture;
– TVs, computers and other electronic equipment;
– treadmills and other large fitness equipment;
– large appliances, or anything too heavy for two people to move
For those who want to donate home-baked goodies for our bake sale, please contact Elizabeth Circle Leader Margaret Tyler.  The Elizabeth Circle members are in charge of the Bake Sale.
Volunteers are the glue to our sale!
For those interested in helping during set-up week, planning the sale, helping during the sale and clean-up, you are welcome to join us on Sunday, September 30, at 2:00 p.m. at Corliss Maynard's house to learn more about Trifles & Treasures!
If you have a strong back (and even better if you also have a truck or van), we could use you on Sunday, October 21 to help pick up items from donor's homes. Contact Debbie Varble.
Help is needed on Saturday October 27, to assist customers on the sales floor, help at check-out stations, greet visitors and direct traffic, assist customers at package check-in stations, or help carry out purchases to customers vehicles.
To volunteer, please stop by our table in the ministry hallway on Sundays, October 7, 14 and 21 between services or send an email with how you can help to Debbie Varble, Corliss Maynard, or Phyllis Doelker.
Visit us and shop on October 27 from 8 a.m. – 1 p.m.! Thank you for your support!